ProAct Online is a web application service designed to make management of your BBS process simple and effective.  The service will scale to any size organization from a single site to a multinational. Access to the software is available worldwide, 24/7/365 and to any Internet-connected device with a web browser.  In addition to regular computer access you can now collect data using tablet devices and mobile phones.
 ProAct in the Cloud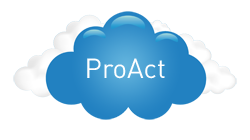 ProAct Online is hosted in the cloud.  This means that your encrypted data is spread across multiple servers dramatically improving reliability and accessibility while reducing cost. If something goes wrong with a server another server instantly takes over. We offer a 99.99% uptime guarantee and since ProAct Online originally launched at the beginning of 2012 there has been no unexpected downtime.
Security & Ownership
ProAct Online is secure and reliable. Data is backed up instantly both on-site and off and each company's data is kept in a separate, encrypted database.
We strongly believe in data ownership. The data you enter into ProAct belongs to you. At any time clients can export data from ProAct or request a full backup of the database. NuDatum Software will not access or share your data in any way without your permission.
Major Features
Scalable to any size organization

Flexible Checklist System – unlimited custom checklists

Powerful Reporting System – unlimited combinations of multi-select filters
Multiple Language Support – user-specific for multilingual sites
Mobile Device Support – collect data with any Internet-connected device
Coming Soon
Action Tracking System –
Report Email Automation –
Report Builder
Pricing
We understand that a solution is only valuable as long as it remains useful. We won't lock you in with contracts or up-front costs.   ProAct Online should continue to provide value.  If it doesn't then we will send you a backup of your data and refund any remaining service fees.